http://www.time.com/time/business/article/0,8599,1882979,00.html?cnn=yes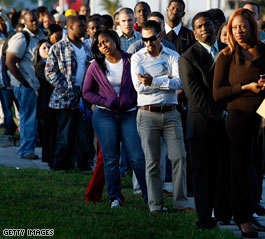 By Laura Fitzpatrick Wednesday, Mar. 04, 2009
"Smith College's career office sent its jittery job-hunting seniors a letter last month with a reassuring message: "there ARE jobs, and you can find employment." Unfortunately, there are far fewer jobs than anticipated, according to a report out today from the National Association for Colleges and Employers (NACE). The companies surveyed in the group's spring update are planning to hire 22% fewer grads from the Class of 2009 than they hired from the Class of 2008, a big letdown from the group's projections in October that hiring would hold steady. Some 44% of companies in the survey conducted last month said they plan to hire fewer new grads, and another 22% said they do not plan to hire at all this spring, more than double last year's figure. "If you were a student and were out there [interviewing] in the fall, you probably had a decent chance of getting a job," says Edwin Koc, director of strategic and foundation research at NACE. "But frankly, the spring does not look good."
Job prospects for college grads, which had been on the rise since 2004, dropped in virtually every sector this year. The most dramatic decline was, not surprisingly, in finance, which hemorrhaged 71% of expected job openings. Less expected but equally troubling is the 37% decline in hiring for professional services, which include accounting and engineering. "Poor hiring estimates from this area speak to the depth of the recession in the college labor market for the Class of 2009," the report says. (See TIME's special report on paying for colleges.)
Government is essentially the only industry planning to hire more new grads this year than last, as the new Administration expands and as a graying workforce retires. (The only other sector with plans to increase hiring — that of distribution, transportation and utilities — had too few respondents for the projection to mean much.) The uptick in government recruiting is obvious to students. Last year, notes Dorothy Kerr, executive manager of Rutgers University's career services, there were just 15 government and nonprofit employers at the annual Big East Career Day in Manhattan's Madison Square Garden; others were kept out to make room for 135 private sector employers. This year, just 80 private companies signed up for the March 13 event, where 30 federal agencies will be on hand accepting resumes. "The good news is, the federal government is definitely hiring," Kerr says. Still, according to the NACE report, the projected increase is less than 6%. (See 25 People to Blame for the Financial Crisis.)
Not only are fewer companies hiring, but more of those with openings are offering internships instead of full-time spots. Only a third of on-campus recruiters this year are looking to sign both full-time employees and interns, the report found, down from an average of two-thirds for the classes of 2007 and 2008. And 16% of employers will be hiring only interns, nearly double the percentage that did so last year. "I explain to [the students] it's like taking another course, and paying to take that course," says Middlebury's executive director of career services, Jaye Roseborough. (Read "How to Know When the Economy Is Looking Up".)
Experts say more college grads may also seek employment in fields that require comparatively little education. "Even if you're surviving by being a coffee barista, it's still better than just staying home," says Koc. "With the job market as difficult as it is, I don't think that students have much of a choice." (See the top 10 financial-crisis buzzwords.)
Still, serving lattes for minimum wage plus tips is a painful prospect to the average college student, who graduates $21,000 in the red. Tuition costs could also be one reason why graduate schools, traditionally a refuge in tough economic times, have seen uneven application numbers this year. Lance Choy, director of the career development center at Stanford, notes that grad schools were a popular backup a few years ago during the dot-com bust, but applications are flat this year. "Who needs more debt when the job market is looking rather grim?" he says.
Meanwhile, schools are pulling out the stops to help their students to beat out the competition. Counselors everywhere are encouraging students to turn to their alumni networks for help. The University of Maryland has conducted workshops with an emphasis on networking. The career office shared by Haverford and Bryn Mawr recently gave each senior 50 business cards listing their names and majors. (Read "Businesses Bucking the Recession.)
But students who have already managed to snag an offer might want to keep their business cards handy. According to NACE, as many as 8% of employers will be forced to rescind at least some of the offers they made this fall. "In this economy, we don't even use the terminology 'sewn up' anymore," says Roseborough. More like coming apart at the seams."
This is my last month in New York. If I can't get a job by the end of March, I'm going to be forced to move.
Don't graduate from college, kids.